Blogger Categories for everybody
by OldCola
I was writing a presentation for professional blogging and had in mind to seek a simple solution to aggregate content from some colleagues blogs to a single one. Of course, I had in mind the option to use the iframe hack I proposed a few weeks ago, and consider that each colleague was a category equivalent ;-)
Then, the Aha! stroke me once more... The Aha! is that small Gremlin-like creature which randomly bring solutions when you don't expect them really, but only if you already spend some time trying to find one. Neuro-physiologists may talk about neural circuit completion, but who cares about such things?
Let's go back to Blogger Categories. The second solutions I'll propose you is much more elegant than the first one. This one I may adopt for OldCola's blah blah. Minimal effort, maximal effects. Just the usual Blogger features, and an e-mail address. Do you have one? Then you are set. Let's have an overview.
Create as many blogs as you need categories. You made avoid the MyBlog1, MyBlog2, etc and opt for MyBlog-Recipes, MyBlog-Trekking etc. Make the names be significant. I'll explain why later... Allways keep your identifier as the first part of the blog's name. Having a short nickname will help ;-) Avoid loooong categories names as ThisIsWhyEVERYHotChickLivingAtMyNeighborhoodIsInLoveWithMe; make them shorter, like HotGuy :-)
For each blog, go to the Settings - E-mail and enter your e-mail as the BlogSend Address.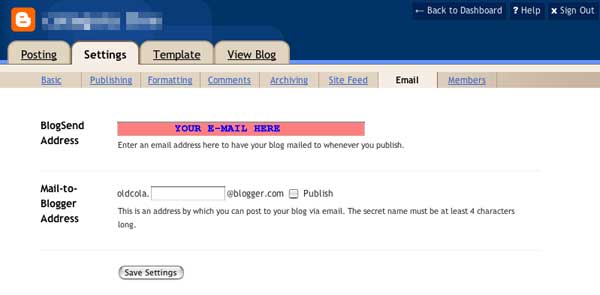 Now, open your main blog [the one you already owned and used] and set the Mail-to-Blogger Address[1]. I used blurred.somecode@blogger.com.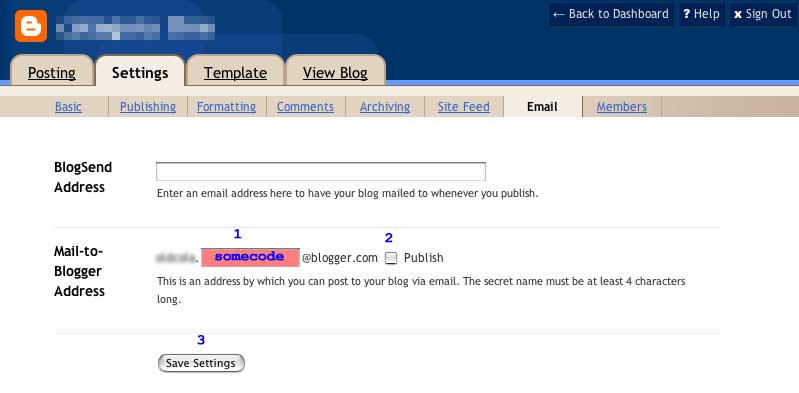 Check the Publish[2], Save Settings[3] and republish your blog, at least the index, to get the new setting work.
Finally, open your e-mail client. I used a gmail account for my example, but any account with the Forward function will do. I suppose you are familiar enough with your e-mailer to create a new rule, stating that every e-mail you receive from the BlogSend, who's Object field starts with [MyBlog-category] (you may use just "[MyBlog-" to simplify), should be forwarded to blurred.somecode@blogger.com.
OK, you are done!
This is it!
No more settings!
It's finished!
You have categories in your main blog, the one that you already used!
---
Let me explain ONCE what happens when you post at one of the MyBlog-AnyCategory blogs:
First, Blogger publish your post
Then it sends a copy at your e-mail, the one you specified as the BlogSend Address.
Then, your e-mailer reads the mail, finds a message with the "[MyBlog-" string, activates the rule to forward it to your main blog.
Blogger receives the mail, at the blurred.somecode@blogger.com address, see that the Publish is activated and publish the message's content to your blog.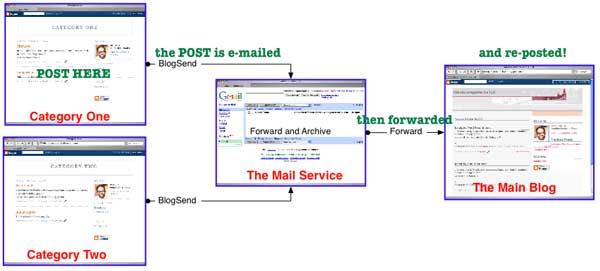 Some interesting aspects:
Everything is automated. If you use an e-mail account that functions independently of you being connected to it, you can post as you like. GMail is great for that, but unfortunately the forward don't use rules (yet). I decided to use one GMail account as Backup of all my posts, and point them to my main blog.
As the categories blogs where named MyBlog-Category, this appears at the title of the posts at the main blog; and this will appear at the archives title also. Helping classification by Google ;-) Now, the choice of short, pertinent categories names, I talked about, becomes obvious. Help Google and Google will be nice to you!
Example: http://oldcola-hub.blogspot.com/